Maildrop: Login, Features, Issues, and More
Last modified on
December 9th, 2021
Email or Electronic Mail is a program that is used to send messages between people using electronic devices. An email account comes with several features like inbox, outbox, forward the mail, and much more. Also, there are several email clients available like Gmail, Yahoo mail, Mail Drop, etc. Here I will be discussing the Maildrop, its features, login steps, and much more.
What is Maildrop
It is one of the email programs available on the internet, supported by Apple, and is used to share images, presentations, and much more. When it comes to the type of files, there is no boundation associated with it, as any of the file types can be sent using this program.
One and the foremost thing required with this email program is an iCloud account. This email program is mainly developed for iPhone and related devices but can be used on any device using iCloud.
Every email client comes with some unique features, if we talk about maildrop email, it also possesses some unique features like
It supports the attachment size of 5GB via iCloud
Once an email is sent, it is available for 30 days, later of which it will be deleted automatically
And many more.
Create Mail Drop Account
If you are keen to know about the maildrop account creation procedure, you have landed in the right place, as the answer to this quest will be done in the forthcoming reading.
In order to use maildrop on iOS, you need to have an email account logged in and find below the steps to create an email account on the Mail app.
Step 1: Open up the settings
Step 2: Go to Mail
Step 3: Tap on Accounts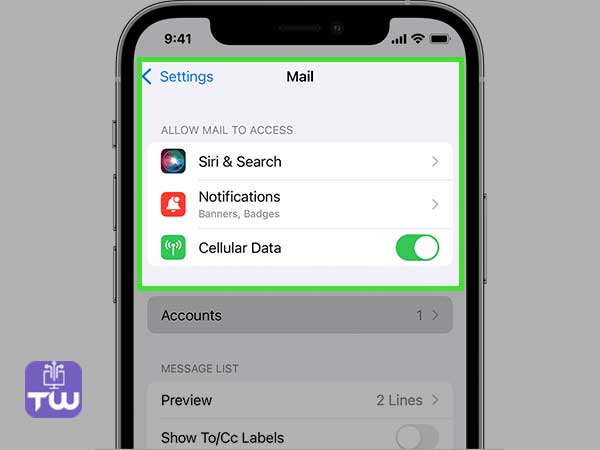 Step 4: Tap on Add Account
Step 5: Select your email provider
Step 6: Enter Email address and password
Step 7: Tap on Next
Step 8: Tap on Save
By following the above-mentioned steps, you will have your email account created on iOS. Now whenever you try to send an email with an attachment size of more than 20MB, you will get a prompt to use Maildrop, as it offers to send an attachment with a size up to 5GB. Also, check the same from the below-depicted image.
Mail Drop Login via iPhone
There is no such app, using which we can use Maildrop directly as it is a functionality of iOS which prompts automatically while sending an email with an attachment of more than 20MB.
In order to login to the Maildrop, you should have the mail app logged in with your email id in iPhone and the procedure to send the email using Maildrop in iPhone is explained below.
Step 1: Open up the Mail app on iPhone
Step 2: Tap on the compose new email icon
Step 3: Enter the email address of the recipient
Step 4: Tap on the up arrow (available on the top right of the screen)
Step 5: Now, you will see a pop-up saying that the attachment may be too large to send and use Maildrop functionality to send the large files.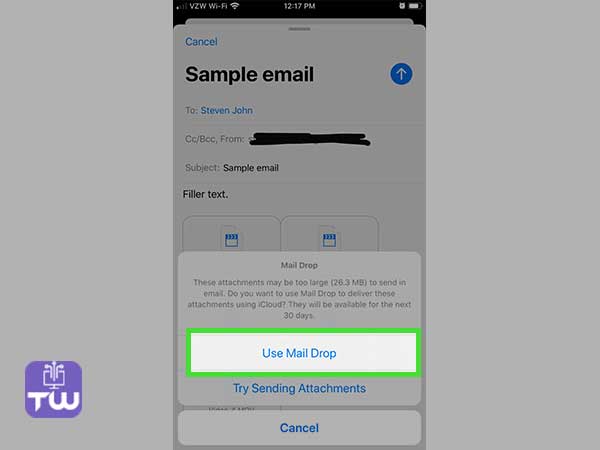 That's it, now the email will be sent to the recipient and this email will be available for the next 30 days, later of which it will get deleted automatically.
Maildrop login via Mac
To send an email with a large attachment on Mac is simple and the app which will be used to send an email will be the Mail app. So, to send such an email all you have to do is follow the below-mentioned steps.
Step 1: Open up the Mail app on Mac
Step 2: Press Command +N on the keyboard to create a new message
Step 3: Click on Compose new message
Step 4: Click on the paperclip icon to add an attachment to the email
Step 5: Choose a file to add to the email
Step 6: once ready to send the email, click on the paper plane icon
Step 7: if the attachment is too large to send, a new pop-up will come up asking you to choose Mail drop to send the mail.
Once the email is sent, it will be received by the recipient as usual and there will be no difference between the mail sent via Mail drop and a simple one.
How to enable Mail Drop in Mac
If you are facing any issue while sending the large data file via Mail Drop, chances are you have not enabled its settings in Mac. So, in order to enable this setting, follow the below-mentioned steps.
Step 1: Go to the Menu bar
Step 2: Choose Mail and then go to Preferences
Step 3: Go to Accounts
Step 4: Select the preferred email account from the left pane
Step 5: tick on the checkbox available near Send large attachments with Mail Drop
By following the above steps, you will have Mail Drop enabled and the issue which you were facing because of it will get resolved automatically.
Mail Drop Login via any computer
If you do not have your iPhone or Mac with you and want to send an email using Mail Drop, Here is how to do it but before that, there is some prerequisite like an up-to-date web browser, iCloud email, Apple ID, etc, once you are done with them, you can proceed by below steps.
Step 1: Open up the web browser (like google chrome, firefox, safari etc)
Step 2: Go to iCloud.com
Step 3: Sign in to it
Step 4: Click on the Mail App icon
Step 5: Click on compose icon (to create a new email)
Step 6: Enter details like recipient email, subject, and message
Step 7: In order to add an attachment click on the paper clip icon, a new window will open up, asking you to choose the file, later which can be added as an attachment.
Step 8: when you are done, click on the Send button.
How to enable Mail Drop in iCloud
After following the above-mentioned steps you will be able to send the email in an easy way. If you are facing some error and can't send the mail, chances are you have not enabled the Mail Drop feature. So, to enable this feature, follow the below steps.
Step 1: Go to show action Menu
Step 2: Choose Preferences
Step 3: Go to composing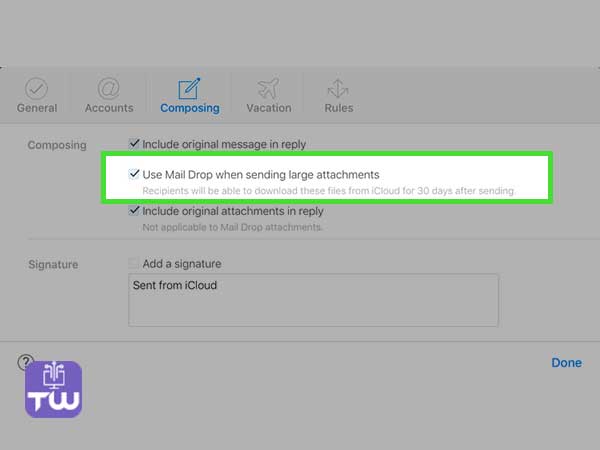 Step 4: Tick on the checkbox which is nearer to Use Mail Drop when sending large attachments
Step 5: Click on done
Mail Drop Login Issues
Since Mail drop is a functionality of email, there can be no issue associated directly with it but you may face some login issues with the email or Mail app. So, here I am discussing some of the login issues related to the email or Mail App.
Incorrect Credentials
If you are trying to send email through the mail app but facing an issue with its login, chances are you have entered the wrong username or password. So, it is advised to use correct credentials, in order to get rid of this problem.

Poor Bandwidth
If you are sending the emails but it is not being sent, chances are your internet connectivity is having poor bandwidth and in order to correct this issue, contact your ISP (Internet service provider) about the same and get this issue resolved as soon as possible.

Server is down
If the mail app is facing some connectivity issue or it is not responding in a correct way, there is a possibility of some server-related issue. If it is the case, you can not do anything except waiting for some hours to get the connectivity streamlined again.

Huge Cache
If the mail app is lagging or not opening properly, chances are the temporary files or cache of the devices have not been cleaned for so long and are creating issues. So, to resolve this issue you may try clearing the cache of the device and this can be achieved via any 3rd party tool or through device inbuilt cleaning feature.
Mail Drop Troubleshooting
If everything is going fine but the email is not being received at the receiver end, there may be some issues relating to Mail drop, as there is a criterion related to it which needs to be taken care of while creating an email, these criteria are defined below.
Attachment is much large
While sending the email, if you face some issue, chances are, the attachment which has been added in the email is quite large and exceeds the limit of 5GB. So, check the size of the attachment before sending the email or you may try compressing the file.

Adding Folder
If you are trying to send the email with a folder as an attachment, keep in mind that it is a wrong practice. Before sending a folder as an attachment, try to compress it or make a zip file of it.

Exceeding the Quota
If you have reached the storage quota of 1Tb of maildrop, then you will not be able to send the email with attachment until that storage is freed up. So, have a sharp eye on the storage before sending the email.
So this was a brief about Maildrop. Everything from login issues to troubleshooting has been discussed.