What Are the Best Sights To See in the American Southwest?
The American southwest is a region of the United States that includes the states of Arizona, New Mexico, and parts of California, Colorado, and Utah. The region is known for its desert landscape, and for its Native American and Hispanic cultures. The American southwest is a diverse and fascinating region, home to a rich and diverse history. All the cultures represented in the American southwest are often celebrated in festivals and traditional ceremonies, and in the region's many beautiful churches and missions. If you're considering a trip to this part of the country, keep reading to find out about the best sights to see in the American southwest.
What are the best sights to see in the American southwest?
A guided tour is a great way to see the American southwest. Not only do you get to experience the region's many attractions, but you also have the convenience and security of a professional guide. With a variety of different tours to choose from, you can find the perfect one for your interests and budget. Mojito Adventures is a fantastic option that offers unparalleled camping and day tour experiences. If you want to get off the beaten path, try some four-wheeling, or go on beautiful nature hikes, Mojito Adventures has everything you're looking for.
If you want to see the American southwest, you can't miss Zion National Park. Zion National Park is one of the most popular tourist destinations in the American southwest. The park is known for its dramatic red cliffs and canyons, as well as its abundant wildlife. Visitors can enjoy hiking, camping, and sightseeing in the park. One of the most popular attractions in Zion National Park is the Zion Canyon Scenic Drive. The road winds along the Virgin River, providing stunning views of the park's cliffs. There are numerous trails along the drive, as well as a few stops where visitors can park and take a short hike.
Monument Valley is another must-see destination. The red sandstone buttes and mesas standing solitary against a bright blue sky are an unforgettable sight. There's a lot to do in Monument Valley too. You can drive through the valley, stopping to take photos at all the best spots. There are also a few hikes you can do, like the John Ford Point hike, which is an easy, short hike with great views. If you're looking for a more adventurous activity, you can go on a guided horseback ride. There are also a few campsites in the valley if you want to spend a night under the stars.
What should you bring with you on your trip?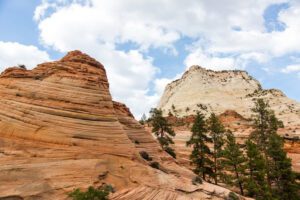 If you're hiking and exploring outdoors, practice proper sun safety. Sun safety is incredibly necessary when exploring outdoors. The sun emits powerful UV radiation, which can cause sunburn, skin cancer, and other health problems if you're not careful. To protect yourself from the sun, always wear sunscreen, sunglasses, and a hat when outdoors. Additionally, try to avoid being in the sun during the peak hours when the sun's rays are the strongest. If you do need to be in the sun during these hours, make sure to apply sunscreen regularly and wear a long-sleeve shirt and pants to protect your skin.
Hydration is essential when you're participating in a lot of outdoor activities. Water is the most important thing you can put into your body, especially when you're active. It regulates your temperature, cushions your joints, and helps your muscles work properly. When you're dehydrated, your body can't function as well as it should, and you're more likely to get sick. So how much water do you need? It depends on your weight, how active you are, and the climate you're in. Generally, experts recommend about 3.7 litters per day for men and 2.7 litters per day for women.
The American southwest is a treasure trove of history and culture that is definitely worth visiting. There's nothing quite like a trip through the American southwest. The varied landscape, from red rocks and canyons to snow-capped mountains and evergreen forests, provides a stunning backdrop to your adventure. Outdoor enthusiasts will love hiking and biking in the many state and national parks, while history buffs can explore ancient ruins and Native American sites. There are also plenty of modern attractions, such as casinos, zoos, and theme parks. The American southwest is a great place to experience a little bit of everything.