The importance of 3D event design
3D technology is not only a great tool for designing an event, but also it doubles as a tool for selling both the event and, as appropriate, the venue. With 3D event design, you can give the prospective client a real world view of what the event will really look like at the specific venue.  In these COVID times, this is even more critical with potential clients located across the country or even across the world.
Millenials are now the largest part of the American workforce.  A key characteristic of this generation is their familiarity and comfort with tech.  Providing 3D event design is an immediate door-opener with this target demographic.
3D event design applications are only limited by your imagination.  You can 'sell' your venue virtually while it is under construction or in use for another event. A 3D design gives your client the closest approximation to the experience of the real thing.
The 3D design process
These are some elements of the event design process where 3D can help you create a more imaginative design but speed up the realization of your concept.
      Your client's and your basic ideas can quickly be projected onto the computer screen, conveying exactly what the final product will look like.

      As you fill in the details of the 3D design, you can study traffic flow and quickly see how visitors will relate to the design.

      You can move elements about and still understand how each relates to the other in real-world terms.

      Your client's input can easily be accommodated during the design process.  The 3D rendering process will allow both client and designer to see how each change works.

      You can quickly and inexpensively experiment with layout, color, shape, dimensions, and themes.  You can do this collaboratively, via ZOOM or in person.
Combining 3D design with 3D projection mapping
3D projection is becoming more and more popular with event designers as a powerful, live, moving, and immersive element that makes an event more compelling.  The addition of a 3D projection element can make an event or a display unforgettable.  The business benefits, of course, are obvious; the impact of a professionally designed, beautiful, moving 3D projection has been proven, over and over, to give exhibitors an advantage over their competition.  Even for a non-commercial event, the impact of a 3D design coupled with a 3D projection can make it more meaningful and memorable.
Professional 3D project design can include the provision of a physical space, a 'dome' which enhances the immersive experience of 3D projection mapping.  For this to be a success, however, the final product must seamlessly combine both the conventional elements of 3D design and 3D projection.  It isn't right for every event or for every venue, the designer must understand how the two technologies complement each other and how they can be integrated to fit a venue (whether a multi-purpose one or a bespoke location).  It's clear, though, when these two do work together, and you are looking for a 'wow' factor, this is the way to go!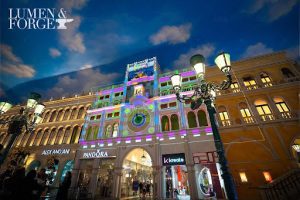 Conclusion
Correctly implementing event design can make the difference between a good event and an extraordinary one. The ability to visualize what you want in advance is crucial for getting all of the details right before construction begins. By taking advantage of 3D rendering technology, you'll have full control over everything from floorplans down to light fixtures without ever risking costly delays or errors once construction has begun on site. 
While event planning is a lot of work, rendering and event design can make things a lot easier. 3D design is becoming more and more important in this day of age when it comes to marketing and promotions. From building events to bringing on the wow factor with 3d projection, it's all about making your event stand-out from others by providing an experience that will leave people talking about you long after they've left the venue!