Creative Gardening Ideas
Last modified on
June 23rd, 2023
Creating a garden is easy as long as you know the basics of plant care. However, if you want to create a garden that's a cut above the rest, you need to bring out your creative side. Gardening isn't supposed to be boring. With the right design techniques, you can have a yard that's beautiful and bountiful.
If you're on the lookout for some good gardening ideas, you've come to the right place. We've compiled a list of some creative gardening ideas that will help bring more life into your yard.
Decorative (And Functional Stones)
A garden doesn't have to be purely filled with plants and flowers. You can add a variety of ornaments as well. One of the most underlooked but definitely worth the investment is decorative stones.
If you need something for style, consider getting beach or river pebbles, says gardening tool experts from MLSWA. These can act as a great substrate for your soil. Alternatively, you can create a more stable path using these stones around your garden as well.
Some stones offer benefits and not just style. You can use pea gravel to allow for better drainage inside your garden. If you have a weed problem, you can control it significantly by using slate chips.
If you have limited space in your yard but you want to add a variety of plants to your garden, a good solution would be to use your walls.
You can use terra cotta pots to plant. Hang these around fences or even on walls around your house. Aside from giving your home a fresh new look, this can also help make the air feel fresher.
New Creative Gardening Ideas often avoid using the vertical space that they have but it's something worth trying.
Some people prefer planting flowers and basic vegetable plants in their garden. Why not make your garden a one-stop shop for your kitchen needs.
You can plant simple vegetables like lettuce, garlic, onion, carrots, and more. It's a good start to living a more sustainable lifestyle. If you're still a bit on the fence about whether or not you can do it, you can start by growing herbs in small pots instead.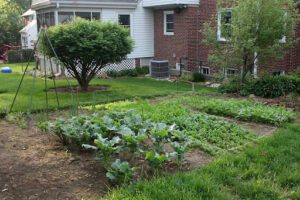 There are lots of quick hacks online about how you can grow your own produce. Before you know it, you'll be harvesting fresh veggies from your backyard in no time.
Why settle for just fruits and vegetables? Take your garden to the next level by trying out beekeeping. It might seem daunting at first, but you can ease into it with the help of a beekeeping starting kit, which gives you the essential tools to set up your beehive. As your beekeeping skills flourish, so will the sweet rewards. Your bees will diligently collect nectar from local blossoms as the seasons change, transforming it into liquid gold—your very own honey.
This will take a bit more work but raised garden beds add more depth and personality to your yard. If you're handy enough, you can create garden beds of all shapes and sizes so long as it fits your yard. There's a benefit to this, too.
By opting to use a garden bed, you'll have more control over the quality of soil that your plants will be thriving in. This is a good solution for plants that are compatible with different types of soils. You can also get the most out of your space using raised garden beds.
If the budget permits, you should consider creating your own mini-entertainment centre within your garden. Set up a shade, put in a few chairs, and then install a good home theatre system at the heart of your garden. This gives your family and future guests a good hangout spot.
What makes this neat is that it makes people feel more at one with nature. The surrounding plants can also make the air you breathe fresher.
Creating a garden theatre setup can be complex and expensive. If you're on a budget, go for a patio garden instead. It's still a great hangout spot minus the high-end entertainment system of course.
What you can do is create an outdoor dining area in the centre of your garden. You can use this spot for special occasions or even if you and your family are feeling fancy for dinner. Such a setup can make simple dinners more special and it can make parties feel fancier, too.
Alternatively, you can turn the patio into something that the kids will enjoy. A good choice would be a mini camping area. Another option is to create a sandpit where your kids can play safely.
These creative gardening ideas can turn your garden into the talk of the town. Before you begin doing any of these, make sure to set the perfect budget for it. Creating the best garden takes a lot of work but it's just as rewarding once you see the end product of your time and money.