The Latest Trends in G-Shock Watches for Men
G-Shock watches for men have become one of the most iconic timepieces in the world. Founded in 1983, G-Shock has created an entire line of watches that are renowned for their ruggedness and durability. Not only are they able to withstand extreme conditions, but they also provide features such as stopwatch functions, multi-function alarms, and more. 
With a variety of styles to choose from and a wide range of colors available, GShock watches for men offer something for everyone. Whether you need something stylish to wear around town or a watch that can survive harsh conditions on your outdoor adventures, G-Shock has you covered.

History of G-Shock Watches
When it comes to watches, G-Shock watches have a long and storied history. Developed in the 1980s by Casio engineer Kikuo Ibe, G-Shock watches are designed to be ultra rugged and incredibly durable. The original G-Shock was designed to survive a 10 meter drop onto concrete without damage, a feat that was considered impossible at the time. 
The first G-Shock watch was released in 1983 and was known as the DW5000C. It featured an all new "Triple 10" design concept which meant that it could survive a 10 meter drop onto concrete, had 10 bar water resistance (which is equivalent to 100 meters depth) and had an impressive battery life of ten years. This combination of features made it an immediate hit with consumers. 
Since then, Casio has released hundreds of different models of G-Shock watches including some special edition models such as collaborations with popular video game series such as Metal Gear Solid or popular anime series like Dragon Ball Z. In addition to the standard models, there are many limited edition releases that feature unique designs or special materials such as titanium or carbon fiber cases.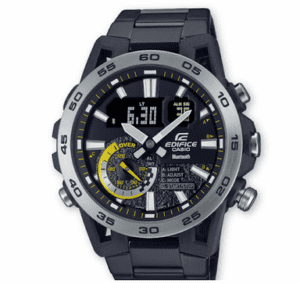 Advantages of G-Shock Watches for Men
G-Shock watches are a popular brand of watch worn by men all over the world. These watches offer a variety of advantages, making them an ideal choice for those looking for a reliable, stylish timepiece. Below is an overview of some of the key advantages that G-Shock watches have to offer men.
One major benefit to G-Shock watches is their durability and strength. These watches are designed with shock resistance in mind, allowing them to withstand even the most extreme conditions without damage or malfunctioning. This makes them perfect for outdoor activities such as hiking and camping, as well as everyday activities like work or going out with friends. The materials used in their construction also mean that they resist wear and tear better than other watch brands, so you won't need to worry about replacing your G-Shock anytime soon! 
In addition to being highly durable, G-Shock watches also look great on any wrist size or shape thanks to their signature design style. They come in a wide range of styles and colors so you can find one that fits your personal taste perfectly; many also feature unique designs such as camouflage or bright colors which help set you apart from everyone else wearing standard black or silver timepieces! 
Features of G-Shock Watches for Men
When it comes to watches, men's G-Shock watches are some of the most popular and reliable on the market. G-Shock watches are known for their durability, water resistance, and stylish designs. When shopping for a watch, there are a few features you should look out for in a G-Shock watch that make them stand out from other brands. 
One of the most impressive aspects of G-Shock watches is their shock resistance and water resistance. These watches can withstand drops from up to 10 meters without any damage or malfunctioning—making them ideal for active lifestyles. Additionally, all G-Shock models are designed to be waterproof up to 200 meters below sea level—making them perfect if you're looking for an accessory that will last in any situation or environment. 
Another great feature of these watches is their digital display capabilities and built-in features like alarms and timers. The digital displays can show both analog time as well as digital time—allowing you to keep track of both quickly at once without having to switch between settings or modes. Additionally, many models have built-in alarms for reminders throughout the day as well as countdown timers so you don't miss important events or appointments during your day. 
Popular Models of G-Shock Watches for Men
G-Shock watches are popular among men for their tough and durable design, making them perfect for the active lifestyle. From digital to analog, G-Shock has a wide range of models that offer different features and styles to suit any taste. Whether it's a classic style or something more modern, here are some of the most popular G-Shock watches for men.
The GA100 Series is one of the most iconic models in the G-Shock line. This timepiece offers a bold and stylish look with its large face and bright colors. It's also water resistant up to 200 meters, making it great for outdoor activities like swimming or fishing. The GA100 series comes in various colors including white, black, blue and yellow.
The GW9400 Rangeman is another favorite among outdoorsy types looking for an all-weather watch that can handle extreme conditions like cold temperatures or high altitudes without missing a beat. It's packed with features including solar power capabilities along with an altimeter/barometer/compass sensor that can measure altitude changes as small as 1 foot (30 cm). 
Conclusion
In conclusion, G-Shock watches for men are an excellent choice for those who want a stylish and reliable timepiece. With their rugged durability, variety of styles and features, and water-resistance capabilities, G-Shock watches provide men with the perfect combination of functionality and style in a watch. Whether you're looking for something to wear during your workouts or to add a stylish element to your everyday wardrobe, G-Shock watches have something that will fit the bill.