How to Choose the Best Action Camera Microphone Attachment
If you're looking to improve your audio quality, our review of the best camera microphone attachments is the perfect place to start. This will give your sound a huge boost and take it to the next level!
Wondering how to get your action camera microphone attachment up and running? 
When selecting the best camera microphone attachments, there are plenty of choices available. Make sure the microphone you pick is compatible with your camera, has an adequate range, and offers excellent sound quality.
Here is a simple guide on attaching your microphone attachment to get the best sound quality for any outdoor activity or video.
One of the biggest challenges to tackle is the absence of a standard 3.5mm audio jack which has become an industry standard for many audio devices. This obstacle can be difficult to overcome, but with the right solutions and technology, it is possible to enjoy high-quality sound without sacrificing other features. If you are looking for a way to get your audio signal into an action camera, you will need to purchase a microphone adapter. Sadly, most action cameras don't have external microphone inputs, which can be a hassle. Older and less expensive models usually don't even have this option.
In this review, the focus is on how user-friendly compact action cameras are. External microphones can significantly improve sound quality when connected to an audio recorder, as they offer superior pre-amps than those found in most devices. While this isn't the main focus of this article, it is worth mentioning that an audio recorder will make all the difference when it comes to getting high-quality audio recordings.
If this isn't the case with you, then let's move forward.
External Microphone Adapters for GoPro Cameras
The neatest product for the HERO8, HERO9, HERO10, and HERO11 is GoPro's Camera Media Mod. The Media Mod is an incredibly useful and versatile adapter that connects to the USB socket on any action camera. It adds a directional microphone that allows you to record crystal clear audio, two cold shoe mounts for attaching external lighting, and 3.5mm, USB C, and mini HDMI ports for connecting external devices. This comprehensive device truly unlocks the full potential of your action camera making it easier than ever to capture stunning content. The external microphone included with this action camera is already better than the original mic. Additionally, the mount and 3.5mm socket open up a world of options when it comes to recording audio.
But there are two downsides. The mod isn't waterproof and will compromise the action camera's waterproofing. This means you can't use it if you think the camera might get submerged. It also adds a layer of complexity to changing the battery, as it has to be completely removed from the camera to do so.
If you're looking for a more flexible way of mounting accessories, Ulanzi's GoPro camera housings are a perfect choice. These do not possess an external microphone like the Media Mod, but still, provide excellent options for customization. The housings are designed to provide easy and painless access to the battery and SD Card, which is essential for many outdoor activities. For added stability, these housings can be mounted with either a tripod screw or GoPro finger mount options. Additionally, a USB to 3.5mm adapter is necessary for making the most of the features that these housings offer.
What is the Best Action Camera Microphone?
With the abundance of microphones available for action cameras today, it can be challenging to identify the right one. You'll need to consider the specs and price range, as well as your budget when deciding which model works best for you.
It is truly a blessing that whether you are looking for an affordable microphone or one with more advanced features and capabilities, there are plenty of excellent microphone attachments to choose from. You can find exactly the right device to suit your needs, budget, and preferences.
DJI Mic
DJI Mic is a compact, lightweight, and powerful wireless microphone system that delivers exceptional sound quality at distances of up to 250 m. The transmitter provides a clear, professional-level recording of vocals, ambient sounds, or musical instruments. With built-in storage, DJI Mic can be used to capture primary or backup audio during recording. Switch on, connect, and record crystal-clear audio on the go.
The transmitters can easily be clipped to clothing, or if that's not an option, they have a magnetic mount for attaching them. This is particularly beneficial for attaching it to T-shirts or unbuttoned shirts.
The DJI Mic package offers two transmitters and one receiver at a reasonable price of $330. This bundle also offers several features such as:
Transmitters Support Omnidirectional Audio

The receiver Is Compatible with USB-C, Lightning, and 3.5mm

This product offers 15 hours of use with the included charging case, which will save you from frequent recharging.
As a pro, the transmitters can connect from a distance of over 800 feet. It is also compact and easily portable. However, as a con, it is very expensive and while it is good quality, other less expensive options can produce similar results.
On the flip side, using AI writing assistants can be costly. Fortunately, there are more affordable alternatives that can still give you good-quality results.
Rode Wireless Go II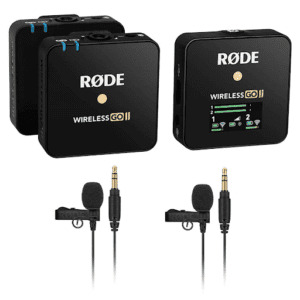 The world's smallest and first truly wireless microphone has been reborn. The Wireless GO II is an ultra-compact and extremely versatile wireless microphone system consisting of a dual-channel receiver and two transmitters. Incorporating the same unique form factor and professional sound quality as the original Wireless GO with groundbreaking, patent-pending technology, the Wireless GO II is the perfect microphone for a wide range of content creation applications.
Our latest revolutionary breakthrough in wireless microphone technology, the Wireless GO II, is now available. It's the world's smallest and first truly wireless mic system with a dual channel receiver and two transmitters. It's ultra-compact yet incredibly versatile so you can take it anywhere with ease.
Key Features:
Dual-channel wireless microphone system for recording two sound sources simultaneously

Series IV 2.4GHz digital transmission, 128-bit encryption – crystal-clear audio at up to 200m (line of sight), optimized for extremely stable operation in dense RF environments 

3.5mm TRS analog output, USB-C, and iOS digital output – universal compatibility with cameras, mobile devices, and computers

On-board recording – over 40 hours of internal memory

Option to record each channel separately or combine them for ultimate flexibility in post-production

Safety channel, flexible gain control (three-stage pad, expandable to 10-stage)

In-built rechargeable lithium-ion battery – up to 7 hours of battery life
Comica VM10
The CVM-VM10 II microphone features a super anti-interference function installed within the internal microphone. It is powered by a video device and includes a professional shock mount, foam windscreen, and a wind muff to attenuate wind noise when using it outdoors. A 3.5mm TRRS smartphone audio cable and a 3.5mm TRS camera audio cable are also included.
Key Features:
Supercardioid polar pattern

Lightweight and professional performance

Low-consumption; power is driven by the video device

Super anti-interference function

Professional shock mount

Includes foam windscreen and wind muff
Saramonic Blink500 Pro Gopro Microphone Attachment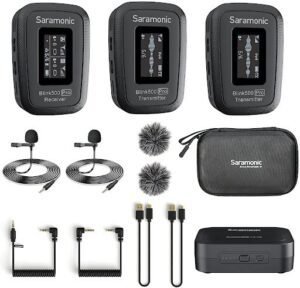 The microphone offers a studio-level sound that is suitable for DSLR, Mirrorless and Video cameras, Smartphones, Tablets, Computers, and other devices. It promises unmatched audio quality for your recordings.
The transmitters and receivers deliver remarkable 8 hours of run time on a single charge and feature quick charging. The supplied charging case allows you to charge the transmitters and receivers anywhere and can be recharged or powered via the USB-C DC 5v port using USB-A chargers and battery packs.
The system series is comprised of three different receivers. The Blink500 Pro RX receiver has a vivid OLED display and a 3.5mm output. It also includes both TRS and TRRS output cables, allowing it to work with cameras, mobile devices, computers, and any device with a 3.5mm audio input. The Blink500 Pro RXDI receiver has MFi Certified Lightning output and is designed for Apple iOS devices. And the RXUC receiver has a USB-C output and is designed for devices with a USB-C port, including smartphones, tablets, computers, and more.
The Blink 500 Pro is designed with professionals in mind and its receivers include a 3.5mm headphone output for active monitoring and a Mono/Stereo switch. This ensures the product meets the needs of even the most demanding users.
Key Features:
Transmission Type: 2.4GHz Digital Frequency

Modulation: GFSKOperating

Range: Up to 328′(100m)

Audio Output Connector: 3.5 mm Jack

Audio Output Level: -60dBV to-20dBV

Power Requirements: Built-in Li-ion Battery or Micro USB DC 5V or Charging Contact

Other functions: 3.5mm headphone jack built-in

Battery Life: Approx. 8 hours

Antenna: PIFA

AntennaWeight: Approx. 32g (1.13oz)

Dimensions: 56 x 38 x 29.4mm

Operating Temperature: 0°C to 50°CStorage

Temperature: -20°C to +55°C
BOYA BY-WM3T2 for action cams and microphones
The Tiny and Lightweight Wireless Mic BY-WM3T2 series is designed to be incredibly compact and lightweight, making it easy to carry around or even store away when not in use. To get the most out of this mic all you need to do is plug the receiver into any device and you are ready to go – no complex installation is required. The combined weight of the TX and RX is no more than 15g, making them very portable. This lightweight and compact transmitter won't weigh down your clothing or pull at your collar when clipped on.
The BY-WM3T2 receiver has a Type-C charging port which allows you to use it to charge your smartphone while simultaneously streaming live broadcasts. It provides a great way to balance your entertainment and power needs. It ensures your uninterrupted work for a long time, such as live streaming. Besides, the built-in rechargeable battery of the transmitter provides up to 10 hours of run time, which helps you get a full day of audio recording.
Noise Cancellation technology is a remarkable advancement in sound quality that has the incredible ability to effectively isolate and identify the original sound even in noisy environments, providing clear recordings with superb audio quality. Smart noise cancellation technology is revolutionizing how we experience sound and bringing us closer to a perfect listening experience. By clicking the power button twice, you can activate the noise cancellation feature. Designed to greatly enhance sound quality, the BY-WM3T2 delivers truly exceptional audio performance to your productions.
Key Features:
2.4GHz wireless microphone system

Ultracompact and portable

Compatible with Apple iOS devices/Tyep-c Devices

Omnidirectional built-in mic for 360° sound pickup

Selectable noise cancellation

Automatic pairing & plug and play

RXD's Type-C port supports charging for external devices during use

TX's built-in rechargeable battery provides up to the 10-hour run time

50m operating range
Conclusion
Let's remind ourselves why we're looking at external microphones. An external microphone significantly increases the sound quality of your video recordings. This is true in almost any circumstance.
When choosing an external microphone, there are several important factors that you need to take into consideration. Choosing the right microphone for your recording needs depends on a variety of factors, such as the type of recordings you plan to do, the acoustic environment in which you will be doing your recordings, and the budget you have set aside for acquiring said microphone. It is essential to take into consideration all of these aspects to ensure that you can select the best-fit microphone for your particular situation.
For simplicity and ease of use, the Rode Wireless GO 2 is an excellent choice for a lavalier microphone. Investing a bit extra for the DJI Mic is worth it. The added perks like the charging travel case and magnetic mounting options make it even more desirable.
With a shotgun microphone, the choice is to balance performance with personal preference. My own choice would be the Saramonic Blink500 Pro because of the richness of its sound. The best action camera microphone attachment for your needs will be a balance between performance, price, and personal preference.