A Frugal Traveler's Guide to New York City
New York is known for many things, but affordability isn't one of them. After all, this city is home to some of the world's most expensive real estate and some of the most exclusive hotels, restaurants, and shopping on the planet. There's really no limit to how much money you can spend in New York, which can make it sound like the city is only for the rich and famous.
However, part of the charm of New York is that despite its popularity with tourists and the international jet set, it remains a living, working city where regular people go about their lives. A little bit of research goes a long way, so if you want to save money on a trip to New York, start planning now.
Drop off your unneeded bags at a luggage storage in New York, and check out our guide on how to enjoy the city while sticking to a budget. In some ways, the more affordable activities in New York are some of the best, so don't be afraid to explore these more cost-effective ideas for your trip.
Save on hotels
Most of the time, your accommodation will be the most expensive single part of your vacation. That's definitely true in New York, where average hotel prices currently sit around $235 per night.
We all want to stay somewhere central. But every traveler knows that it's always cheaper to stay further out. And thanks to New York's excellent public transport system, that's more feasible here than it is in most cities.
Plus, New York is overwhelmingly a city of neighborhoods, each with their own personality and charm. Most of the major sites are in Manhattan, but Brooklyn, Queens, Harlem, and even New Jersey all have their own character and attractions to recommend them. And if you look around in some of the outlying areas, though still reachable by the subway system, you can find some great deals on accommodation.
Hotel prices are also highly seasonal. New York is busy all year round, but Christmas and summer see the greatest influx of tourists, and hotels raise their prices to take advantage. If you can visit the city in the spring or in the fall, you can save a lot of money on your accommodation.
Also, think outside the hotel. Renting an apartment privately can be a great way to save money and live like a local. Often, that's especially true if you're traveling as part of a group. Getting a bigger place and splitting the cost between more people almost always ends up being cheaper than getting a smaller place all to yourself.
Use public transport
Wherever you stay, sooner or later, you will find yourself using New York's public transit system. Luckily, it's one of the best in the world. Plus, the New York subway is such an icon of the city that it is almost a tourist attraction in its own right, and you can't really say you've been to New York unless you've ridden on at least a subway line or two.
New York may be famous for its cabs, but the Metro remains the best way to get around the city — and one of the cheapest. A single ride on the Metro costs $2.75, and you can save money by planning ahead. Buy yourself a Metro card for a dollar, and you can reload it with a credit card whenever you want. Once you've taken 12 trips with the same card, you can ride free for the rest of that week.
Alternatively, get yourself an unlimited travel pass so you don't have to worry about counting your trips. $33 will buy you a seven-day unlimited pass for use on the Metro and bus system. If you plan on riding the Metro lot, this can save you a lot of money as well as hassle.
Of course, the subway isn't the only way to get around New York. The city also has an extensive network of self-serve rental bikes and plenty of bike lanes you can use to travel through New York. Or, you can simply walk. New York is a huge city, but walking the streets is one of the best ways to experience it for yourself. Besides, in densely populated Manhattan, many of the top tourist attractions are only a few blocks apart, so bring some comfortable shoes and get your steps in.
Cheap and free attractions
Some of New York's top attractions, like the Empire State building, can be eye-wateringly expensive. That doesn't mean you shouldn't do them. But it does mean that you may have to make savings elsewhere in order to see the best of what the city has to offer.
Luckily, some of New York's other most iconic attractions are quite affordable or even free. For instance, Central Park, the famous green oasis in the heart of the city, costs nothing to visit. You can also get incredible views of the Statue of Liberty from the Staten Island ferry, and it's free to ride. Plus, some of the city's top museums have free admission or pay-what-you-want nights, so keep an eye out for those.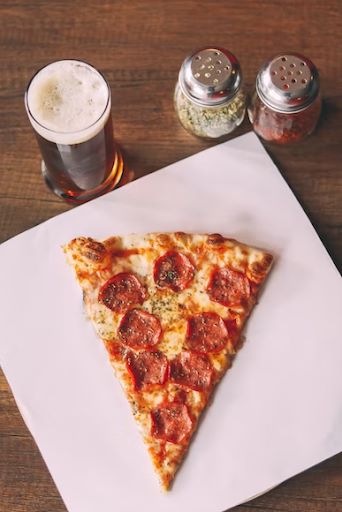 Eat pizza
New York pizza is as much a part of the culture of the subway, the cabs, and Times Square. And it remains one of the cheapest ways to eat in the city. The days of the one-dollar slice may be coming to an end, but given the size of the typical New York pizza slice, paying $1.50 or even two dollars still represents an incredible bargain.
And it's not just the pizza. New York's famous delis pride themselves on putting more meat in a sandwich than you would ever think physically possible, so two people can often split a single sandwich or keep it as leftovers for another meal. The same goes for the city's infinite supply of bagel shops, which remain a great place for cheap eats for tourists and locals alike.
Conclusion
When it comes to saving money in New York, a little preparation goes a long way. Stick to eating pizza, bagels, and deli sandwiches — let's face it, you were probably going to do that anyway — and take advantage of the subway to keep your costs down. Combined with an affordable place to stay, you can have a great trip to New York without breaking the bank.