5 Steps to Start Your Solar-Focused Business Right Now
Investing in renewable energy is investing in the future. More people are adopting solar  technology to save on electric bills and help the environment in the most practical way.
The need for eco-friendly solutions is something your business can fill today. In this article, learn how to start a business powered by solar demand step by step. 
1. Choose Your Kind of Solar 
Who are you as a company? Will you focus on installing and maintaining solar panels and battery systems? Will you provide consulting services in the development of solar projects? 
Your company could get involved in manufacturing PV systems or their maintenance. It could sell products, like home appliances and gadgets that run on solar power, or blog about solar energy to educate homeowners.
Or your company could invest in the solar energy sector through stocks. You could also lease your land to solar farms. The list goes on and beyond the confines of a standard solar installer. 
2. Set Your Niche
The whole solar market is vast and competitive, so set out with a clear, specific focus. It can be a geographical location, like a service area for solar installations, or a group of customers living around that area who have been underserved by the competition because of pricing. 
Establishing your niche sets you apart from other solar businesses and lends laser focus to all your business activities, from marketing to cultivating customer relationships. 
Instead of keeping up with the big players, focus on doing well in your chosen niche and building your reputation as a trustworthy expert. 
3. Create a Business Plan 
Document and formalize your research and legwork about your solar company in a business plan. Preparing this business plan compels you to be detailed about every aspect of your operation and how you intend to make a profit.
Doing business is better with concrete plans, so you know how to proceed accordingly and clear these hurdles along the way: 
Paperwork.

Your state may require you to obtain licensing and certification for a solar installer. Meet relevant requirements on top of permits and documents required in setting up a business.

Cost.

Look to these

solar PV manufacturers

and their market capitalization for reference. Solar startups exist too, although their funding can be in millions of dollars. Capital-intensive or not, you will have to make all the calculations for your financial projections.

Business uncertainty.

Solar can experience volatility. It could be edged out by a more affordable source of energy. Government incentives that encourage its use may be discontinued, etc. Identify challenges that could negatively impact your business and your plan. In crafting your plans, you'll likely encounter bright spots and opportunities, so take note of those.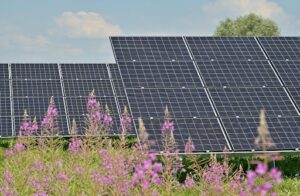 4. Line Up Business Funding
The first few years of your business are its most critical. Where do you get the money to ensure that your newly created solar-oriented business will survive?
 

Personal savings and job

. New business owners typically fund their business with

their own money, including income from their job/s. For businesses with high upfront costs, like a solar panel installation business, bootstrapping alone may not work. 
Loans

. These could come from friends, family members, and lending institutions. Banks are stricter in lending money to new businesses because they represent higher risk. Prove that you can repay the loan, and notwithstanding the need for financing, consider getting the best possible loan for your business.  

Government support.

Check with government agencies or entities for available loans or grants for solar businesses. One example is the

DOE

.  
5. Find Customers 
Sales keep your business going and afloat. Solar installers are already many, so why should a homeowner get services from a newly established company? 
Marketing gets the word out that your business can offer value to a customer and deliver on this promise. It would also help if existing customers confirmed the quality of your service and spread the word to people they know.  
Getting solar leads online is another strategy. Consider generating leads on your own, or partner with experts to lead you to people who are interested in getting a solar system.  
Strike while the iron is hot. With the steps above and careful and strategic actions, the future of your solar business is bright.